The Recovery Room at 5280 Cryo & Recovery Clinic in Denver
5280 Cryo & Recovery Clinics offer a recovery room for athletes to manage their own overuse and soft tissue injuries. This room has mobility and soft tissue recovery tools to aid in a faster and more efficient healing process from intense workouts.
Access to our recovery room allows for use of common equipment seen in gyms, clinics, or at doctors' offices. Access to the recovery room can be on a walk-in basis anytime during our normal business hours.
Fees for use can range from a one time use to a monthly membership. Some athletes aren't injured but often feel functional deficits that limit their full ability to move without restriction.
Common overuse areas such as shoulders, hips, neck or back are susceptible to conditions that can be prevented with "prehab" exercises. Comprehensive functional exercises can help retrain poor biomechanics commonly referred to as upper and lower crossed syndromes. Correction of postural biomechanics or functional deficits can often help prevent repetitive soft-tissue injuries and improve athletic performance.
Scheduling with one of our doctors can help you organize your specific recovery plan into an efficient use of your time to attain functional goals. The long-term goal for our doctors is to improve the body's efficiency and skill of movement, thus reducing the incident of injury.
TRUE Stretch
---
The TRUE Stretch is a revolutionary concept that uses the natural approach to flexibility training. It provides athletes an efficient mobility stretching tool and eliminates the need for floor-based stretching or leaning uncomfortably over equipment or exercise ball. Simply put, TRUE Stretch helps athletes reduce their risk of injury.
Stretching is exercise!
The TRUE Stretch provides a dedicated, self-contained stretching area that allows users a safe platform for comprehensive stretching to increase flexibility. TRUE Stretch comes with an easy-to-follow exercise placard that is displayed on the frame. This full-color photo-illustrated display is organized by muscle groups and features 30 different stretching exercises. All are designed to mimic real-life, real-world stretches.
TRUE Stretch effectively stretches the body in all three planes of motion (front to back, side to side, and rotational) while keeping the user in natural upright positions with four points of contact (both hands and both feet) for proper body alignment, stability, and safety.
NormaTec
---
The NormaTec Recovery System
offers an effective compression therapy to help legs and arms recover from intense exercise or injury. NormaTec's founder, Laura F. Jacobs, MD, Ph.D., a physician bioengineer, realized this fundamental principle when she developed and patented the Sequential Pulse pneumatic waveform. NomaTec uses Sequential Pulse Technology, based on normal physiology, that synergistically combines three distinctive massage techniques to speed the body's normal recovery process. While a healthy athlete's body eventually will recover from an intense workout, using the Sequential Pulse Technology found only in a NormaTec Recovery System for just 20 minutes can speed recovery.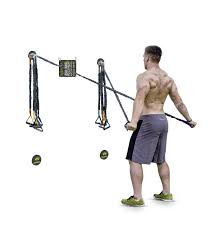 Crossover Symmetry
---
Crossover Symmetry is a medically designed rotator cuff and scapular strengthening system engineered to enhance shoulder health and performance. Crossover Symmetry was founded in 2006 by a professional baseball player and a physical therapist with the goal to provide a practical, structured, and efficient shoulder strengthening system for athletes.
The programs were developed using the most current research and EMG data to identify the best exercises and techniques to train the scapular stabilizers and rotator cuff.
Crossover Symmetry is currently headquartered in Arvada, Colorado. We are currently used by professional athletes in the MLB, NFL, NBA, NHL and over 75% of major NCAA Division I Universities. Crossover Symmetry training is also used as a principal training tool among the best CrossFit athletes and gyms in the world.
Trigger Point Therapy
---
Trigger point therapy is one of the fastest-growing and most effective pain therapies in the world. Medical doctors, chiropractors, physical therapists, and massage therapists are all beginning to use this technique to relieve patients' formerly undiagnosable muscle and joint pain — both conditions that studies have shown to be the cause of nearly 25% of all doctor visits. Trigger point therapy branded tools help manage chronic muscle pain by forcing blood and oxygen into areas tightened and constricted due to high-intensity workouts. A lack of oxygen to tissues causes cellular death termed hypoxia. Fueling muscles with blood and oxygen limits injury.
Vibration Plate
---
The technology of whole-body vibration is available for personal use through the innovative VibePlate Exercise Vibration Plate. Vibration therapy delivers increased athletic abilities, improved physical rehabilitation, pain relief for chronic pain sufferers, anti-aging benefits, and more!
Whole-body vibration has been used by professional athletes for decades, and the VibePlate Exercise Vibration Plate can provide an impressive workout when used as little as 15 minutes per day, three days a week. The benefits of using the VibePlate Exercise Vibration Plate include:
improved flexibility
coordination
mobility
balance/stability
and agility
Foam Rollers – Swiss Exercise Ball
---
The SKLZ Sport Performance TRAINERball features 16 exercises printed on the self-guided stability ball, including dynamic plank, glute bridge, and knee tuck, that focus on core stabilizers, flexibility, and efficient muscle recruitment.
SKLZ Trainer rollers help relieve muscle soreness, improve blood circulation, and increase muscle elasticity. The high-density foam construction efficiently massages the muscle and connective tissue. The roller includes 12 essential exercises designed by professional trainers for elite athletes.